TavernerPOS - Introduction

Taverner POS is a free and open-source point of sale software system for use in public houses, bars and clubs. Touch screen operated the software offers backoffice management, menu modifiers, reporting, kitchen printers, manager facilities, multiple terminals, point of sale hardware support and cash terminal support.
The TavernerPOS suite is a fork of Floreant POS, aimed at simplifying and streamlining work in public house and bar environments rather than larger restautants, and makes use of Floreant POS's  'TAKE OUT' ticket method for sales across the bar.  This can be renamed to suit individual taste and requirements, for example 'Bar sales' from the configuration dialog menu. Other ticket types can still be used if required.
Taverner POS offers key features that extend what Floreant POS offers, such as:-
Automatic saving/restoring of bartenders' last open ticket; this supports multiple bar-tenders in a fast moving environment
Automatic opening of new tickets on sign in if none are present
Support for HID key fobs for login with the login screen appearing automatically on logout
Automatic closing of Order Summary (having finished a transaction) after a specified delay
Automatic filling of Card Authorisation Codes with timestamps for external terminals (rather than having to enter a receipt code which is  time consuming)
Blank buttons can be defined by using '-' (hyphen or dash) to assist in better layout of Inventory screens
Extending the working day by a number of hours for Bars with a late licence (for example extending opening by 2 hours to 2AM is included in the same working day's reporting) 
Taverner POS provides many fixes and additions to Floreant POS:-
Corrections to VAT inclusive prices so that VAT is calculated and reported correctly
Receipt ticket logo supported (jpeg format). Draw kick added to draw pull 
Resized reports/receipts for cheaper 58mm printers. UK localisation (in addition to other languages) 
Disabled automatic ticket receipt printing (so printed only when manually requested now)
Fixed receipt printing to print to a file on Linux rather than serial port thereby supporting more printers (i.e. USB receipt printers). Automatic clearing of the tendered amount when a new value is overtyped
Command line option to specify specific config file (-configFile)
"Delete All" button added so an unwanted ticket can be reused or a mistaken one cleared with a single strike
Shows the 'Server' (bartender) name by default in the Ticket List screen
Shows first and last names in Ticket List screens (in case bartenders have the same first name, you might want to just use an initial for the last name)
Automatic terminal numbering based on Mac address of device running the system (experimental - working on linux)
See the changelog for full details.
NB: TavernerPOS is provided AS IS and without warranty of any kind. Use is entirely at your own risk. No claims are made as to fitness for purpose. 
Multi-platform
TavernerPOS is a java application and runs on Windows, Linux and OSX.
It is also possible to run the system through a web-browser using webswing. This enables tavernerPOS (or Floreant POS for that matter) to be used under Android or iOS (or anything else that supports a modern HTML5 browser) to support terminals on tablets.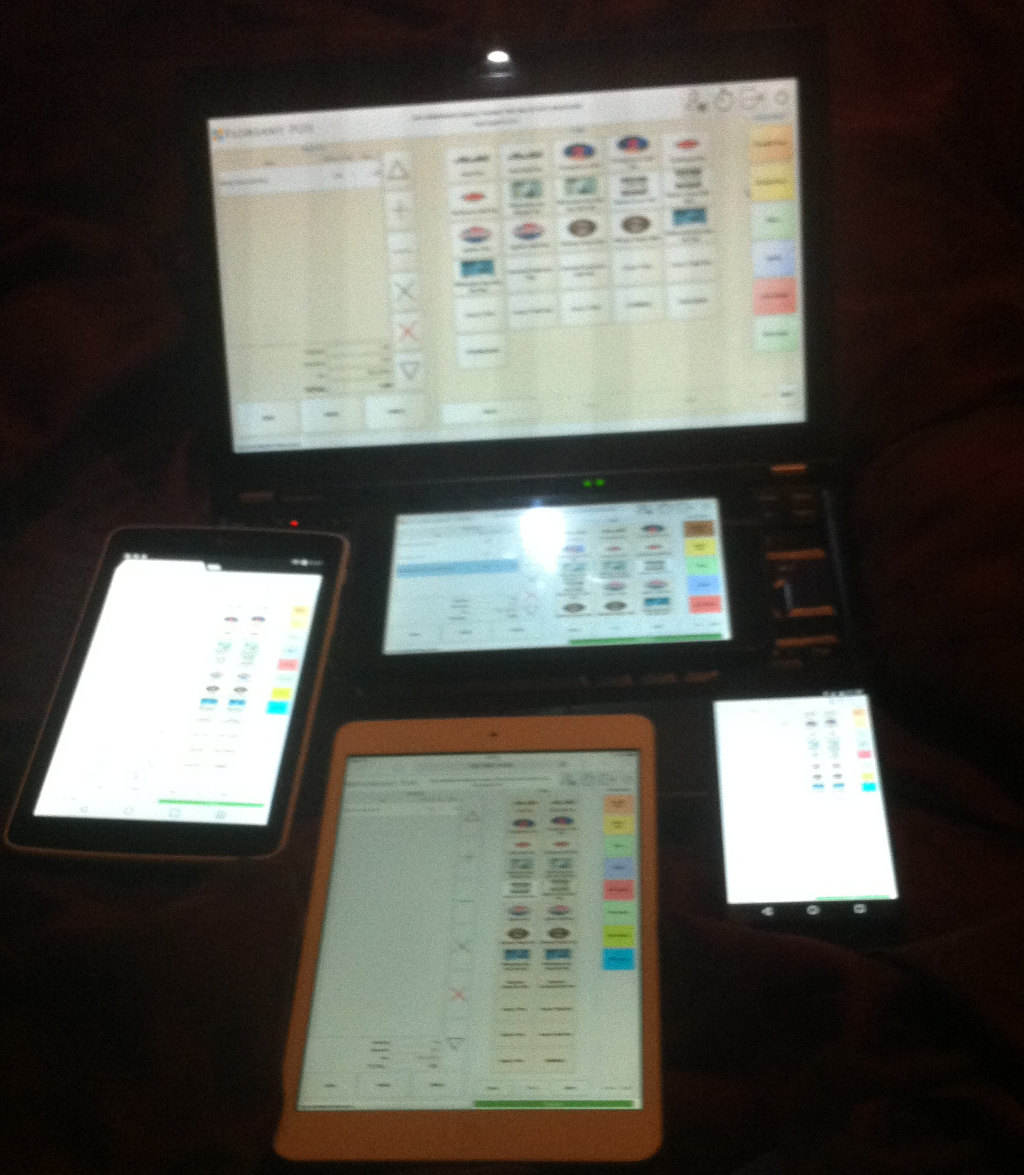 TavernerPOS 'running' on a Windows Laptop,  an Android tablet, an Android Phone, an iPad and a Windows Tablet.
Details

Last Updated: Friday, 15 April 2016 15:32
Hits: 608479